ULTHERAPY
Bringing Back The History of Your Youth
The #1 NON-SURGICAL SKIN LIFTING TREATMENT IN JAKARTA
The ONLY USA FDA-CLEARED NON-INVASIVE NECK, CHIN & BROW LIFTING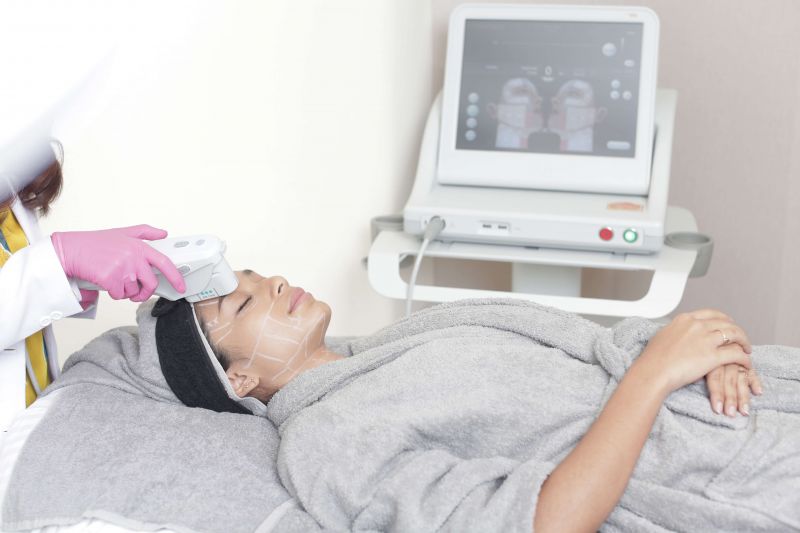 FACELIFT WITHOUT ANY SURGERY

Ultherapy is the only non-surgical skin lifting treatment, that ables to maximize the production of collagen and elastin due to its advance technology called Microfocused Ultrasound with Visualisation (MFU-V).
The mechanism of this technology is the delivery of precise heat energy via ultrasound waves into skin layers, reaching down the facial muscle called SMAS. The main benefit of this technology is that it will not harm the outer skin surface or cause pigmentation. Added with its Visualisation (ultrasound imaging) feature, it offers direct visualization of the targeted area, ensuring that the energy being emitted is directed at the correct area.
REVERSING THE CLOCK OF AGING
The effect of the heating will stimulate the skin's natural healing and regenerative process will:
1. Encourage collagen production
2. Produce new collagen and elastin
This process will take place for 1 – 6 months post-treatment where the results of skin lifting and tightening will be seen progressively and naturally. Other effects of this treatment are pore tightening and improvement of skin texture.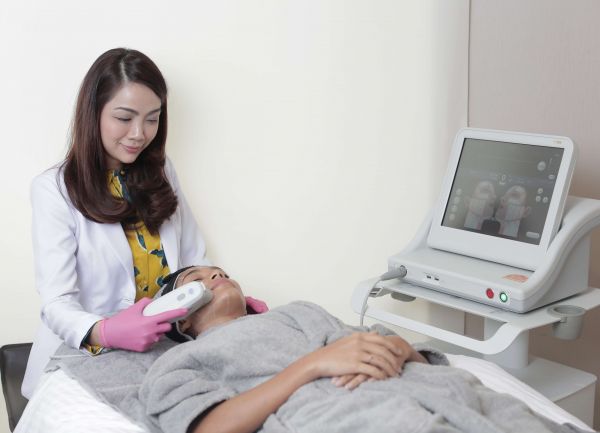 THE MOST EFFECTIVE & NATURAL SKIN LIFTING TREATMENT
When can I see the result?
Results will be seen 1-2 months after treatment where lifting and tightening of the skin are observed. The results will also last for 1-2 years.
Will this treatment hurt?
Each person has a different pain tolerance, the level of pain ranges from 1-6 out of 10. To minimize the pain, topical anesthetic cream will be applied to the area prior treatment.
Ideal Candidates
1. 30 – 60 years old
2. Does not want any surgical procedure
3. Has wrinkles and sagging skin
4. Have enlarged pores and textural issues
5. Does not want any downtime
6. Wants a natural and long-lasting result
7. Does not want an injection procedure
FAQ
Ultherapy Treatment Zones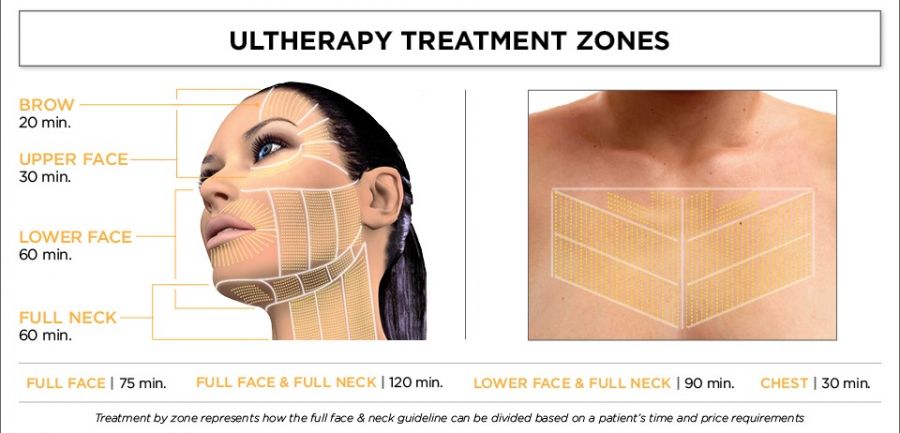 How long is the treatment?
1-2 hours, depending on which body area.
How often should the treatment be done?
Most people only require 1 session/year. However, the number of treatments required will depend on the degree of aging.
Is there any side effect?
Due to the heat energy, there will be transient redness, swelling or bruising. These effects are temporary and will subside throughout the day.
How much is Ultherapy?
The price depends on how many shots that are delivered to the area. Of course, YB Clinic offers a special price to patients!
1 shot = Rp 50,000
Brow Lift : 40 shots
Face : 400-600 shots
Full Face + Neck : 800 shots
Neck : 200 shots
Treatment Can be Combined with:
THERMAGE FLX | FILLER | PICOPLUS LASER
Our Happy Clients
Testimony

Thanks to my beautiful doctor @dr.gabysyer dari @youthbeautyclinic who introduced me to hi-tech and futuristic machine in FAT FREEZING treatment

My body wasn't like this before, but I'll slim again! Thanks to the kind-hearted and pretty @dr.gabysyer. Also thanks to @youthbeautyclinic, I really enjoy having treatments here.

It's always good to be spoiled. dr. Gaby always provides the treatments we really need! love you love youuu my dear @dr.gabysyer
Ready to Start Your Treatment?
Schedule an appointment with our professional doctors today.
Make Appointment
Meet Our Team
Best specialists in one place
Visit Our Clinic
Youth & Beauty Clinic
Main Clinic
Kemang Square. 1st Floor. Jl Kemang Raya no. 3A, South Jakarta.
Branch Clinic
Gedung WH47, Lantai 2
Jl. KH Wahid Hasyim no. 47, Gondangdia, Menteng, Jakarta Pusat.
Phone
+62 878 6594 4904
Opening Hours
Mon – Fri: 9 am – 7 pm WIB
Sat: 9 am – 5 pm WIB