ULTRA SKIN II
Prevent Early Signs of Aging and Rejuvenate Your Skin with Ultra Skin II
At Youth & Beauty Clinic, we utilized the Ultraskin II, a newer generation of Korean HIFU approved by KFDA (Korea), Health Sciences Authority (HSA) and CE (Europe). Ultraskin II stimulates collagen production deep within the skin to lift and tightens the skin. Ultra Skin II's HIFU technology uses high intense focused ultrasound energy to generate precise thermal effects under our skin that allows for the stimulation of deep structural support layers of the skin, including collagen and the SMAS layer.
SMAS layer is a layer that is usually targeted during surgical facelifts. When ultrasound energy tightens up this layer, patients will expect visible skin firming results. Ultra Skin II has proven to be a reliable and safe alternative to those who desire skin lifting without having any surgery.
Popularly known as the non-surgical facelift in South Korea, Ultra Skin II are highly demanded by patients who notice mild to moderate signs of aging such as
Sagging Skin
Crow's Feet
Wrinkles
Jowls
Undefined Jawline or Chin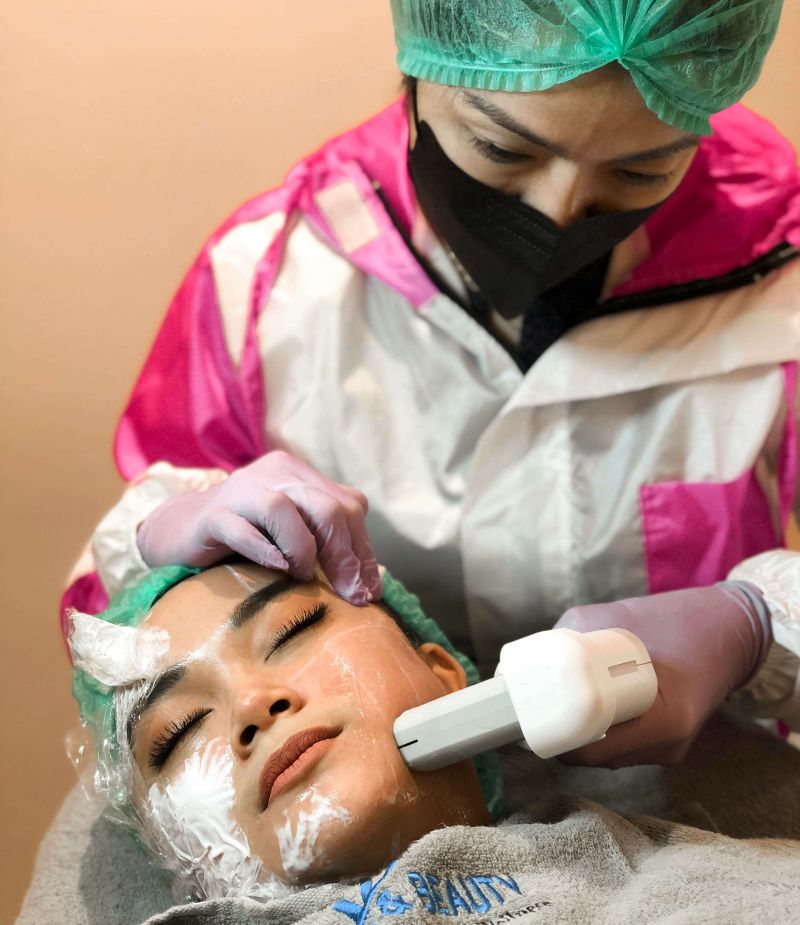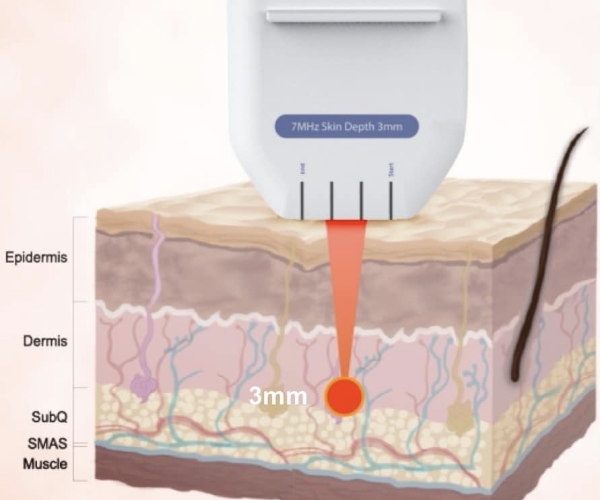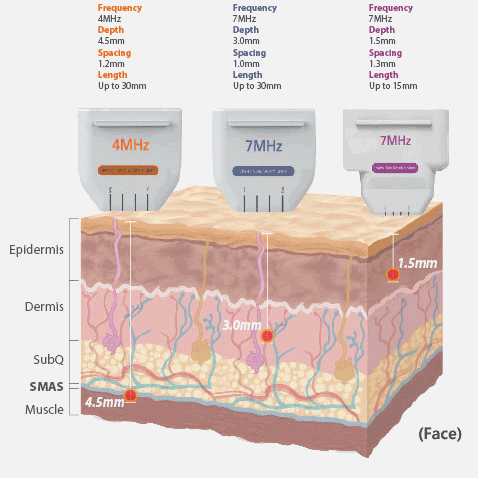 What Areas can be Treated by ULTRA SKIN II?
● Forehead wrinkles and fine lines
● Eyebrow & eyelid lift
● Cheeks and saggy skin
● Smile lines
● Jawline & jowls
● Double chin
● Neck lines
How Does ULTRA SKIN II Works?
There are 3 types of handpieces with different penetration depth to direct ultrasound waves at different layers of the skin in uniform dots, to treat the targeted areas of your face or neck and to achieve a range of different results.
Superficial Muscular Aponeurotic System (SMAS) layer – 4.5mm
Thermal effect on the SMAS layer is at around 60-70oC to achieve effective skin lifting and tightening effects.
Dermis Layer – 3mm
Heating the skin tissues in this layer will effectively stimulate collagen regeneration and the reduction of wrinkles.
Deep Epidermis / Superficial Dermis Layer – 1.5mm
Reduction of fine lines and enlarged pores.
What Happens During ULTRA SKIN II?
Prior Treatment
Patients will be given anesthetic cream prior to the treatment to minimize any discomfort or pain sensation. Then, the doctor will draw a facial map on the targeted area, followed with the application of a layer of ultrasound gel for the transmission of ultrasound waves.
During Treatment
The Ultra Skin II device will deliver short pulses of ultrasound energy on your skin at specific depths of 1.5mm, 3mm and 4.5mm, causing an immediate collagen contraction and regeneration. Patients may experience a slight prickling sensation during the treatment.
After Treatment
Expect little to no downtime after the treatment session. Patients may experience mild tingling or swelling but these symptoms are usually temporary in nature. Results will be seen after 4-6 weeks with a continuous improvement for up to 6 months. This is due to the collagen remodelling process.
How Often Do I Need to Do ULTRA SKIN II?
Patients are recommended to do 3+ sessions with an interval of 4-6 weeks/session, depending on the condition of the skin. For patients that have moderate to severe signs of aging, Ultherapy may be a more suitable treatment for them
To know the difference between ULTRA SKIN II and Ultherapy : https://youthbeautyclinic.com/ultherapy-vs-ultraskin-ii-lift/
Our Happy Clients
Testimony

Thanks to my beautiful doctor @dr.gabysyer dari @youthbeautyclinic who introduced me to hi-tech and futuristic machine in FAT FREEZING treatment

My body wasn't like this before, but I'll slim again! Thanks to the kind-hearted and pretty @dr.gabysyer. Also thanks to @youthbeautyclinic, I really enjoy having treatments here.

It's always good to be spoiled. dr. Gaby always provides the treatments we really need! love you love youuu my dear @dr.gabysyer
Ready to Start Your Treatment?
Schedule an appointment with our professional doctors today.
Make Appointment
Meet Our Team
Best specialists in one place
Visit Our Clinic
Youth & Beauty Clinic
Main Clinic
Kemang Square. 1st Floor. Jl Kemang Raya no. 3A, South Jakarta.
Branch Clinic
Gedung WH47, Lantai 2
Jl. KH Wahid Hasyim no. 47, Gondangdia, Menteng, Jakarta Pusat.
Phone
+62 878 6594 4904
Opening Hours
Mon – Fri: 9 am – 7 pm WIB
Sat: 9 am – 5 pm WIB